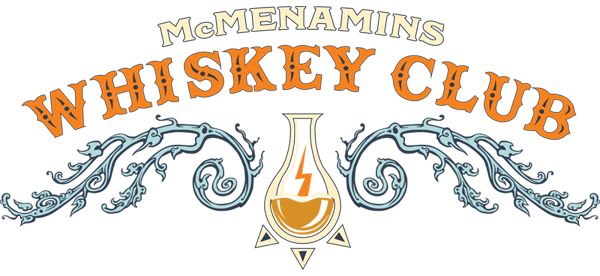 A splash, on the rocks, neat, with soda - whatever your preference, we've got your whiskey, and you've got exclusive access to premium selections. Join McMenamins Whiskey Club to enjoy plenty of perks with other whiskey-minded people.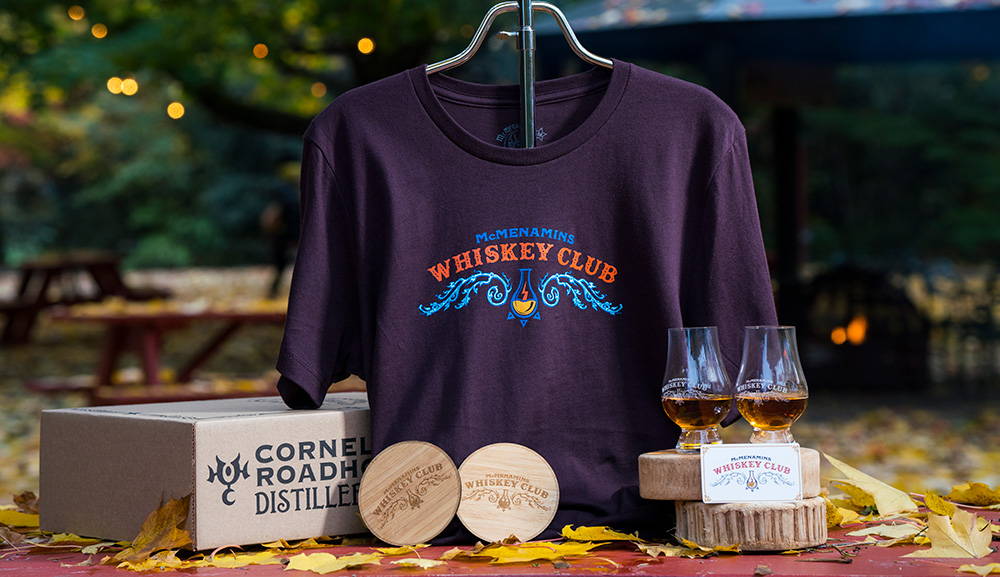 Welcome kit (above) with exclusive Whiskey Club merchandise and membership card.
Members receive a different kit every year with a new membership card.
Access to quarterly releases of exclusive, limited-edition, small-batch McMenamins spirits and bottle sizes (purchase price not included in membership)
Invitations to Whiskey Rambles - Rambles are free events for members and guest to enjoy meeting the distillers, small bites, tastings and distillery tours.
Members-only pricing on specialty merchandise and spirits packages online and in gift shops.
Exclusive access to Whiskeys in the Shed menus for member and one guest, offered at select locations and featuring rare special releases, hard-to-find whiskeys and/or limited-edition McMenamins library spirits. They may not be actual sheds, but they embody the spirit of those special tucked-away places.
February – CPR Phil Port Barrel-Finished Whiskey
March – Edgefield 5-year Devils Bit Whiskey
June – Hogshead 10-year Whiskey
September – CPR Devils Bit 6-year Rye Whiskey
November & Holiday – Estate Pear Brandy
& CPR Phil Sauterne Barrel Finished Whiskey

Please note: liquor is an additional purchase.

Read More About the Releases
We encourage you to ramble through whiskeys – taste widely, experience different distilleries and celebrate variety, and as a Whiskey Club member, you and a guest will be invited to a handful of Whiskey Rambles each year where you will taste whiskeys and wee cocktails, enjoy bites, shop exclusive merchandise and chat with distillers.
The name "Whiskey Ramble" was inspired by the Midnight Rambles of Levon Helm whose regular jam sessions with and for friends became legendary. Whiskey Rambles celebrate whiskey among friends, much as Helm's Saturday night rambles celebrate music.
Let's start with the t-shirt size we should include in your welcome kit...
Make sure you sign in so you can enjoy your member benefits of online discounts and exclusive items available only to you! You'll find the Whiskey Club Exclusives page located under the Clubs menu.
If you need to make changes to your membership account, you can manage your preferences below.